Biglearning: The Best Academic Aid to UGC NET Exams
Biglearning offers the best possible learning experience for UGC NET coaching all over Kerala. The exam is conducted by the National Testing Agency (NTA) for selecting candidates qualified for assistant professorship or lectureship, junior research fellowship in colleges and universities across the country. Through the efficacious and systematic teaching strategies provided by Big learning, make the strongest foundation to your career.
The exam consists of two parts: Paper 1 and Paper 2. Both papers are equally important for qualifying for NET. Thus, a simultaneous and planned preparation is required for both.
Biglearning has already been recognized for its preeminent functioning and uniqueness in bringing the best results. So, why wait? This is the right opportunity to experience joyful and effective learning with Biglearning.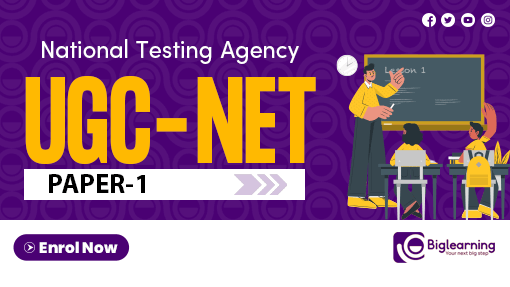 Paper I
Paper I syllabus is common for all the arts subjects. It consists of 50 MCQs each of which carries two marks each. This paper covers areas such as general awareness, research, teaching aptitude, numerical aptitude, etc. Despite the tremendous effort put into the subject part, most aspirants feel paper I challenging. Through conscientious preparation strategies, Big learning assures you with innovative ways to tackle paper I too. We extend our support and assistance through the best classes offered by highly qualified and experienced educators across Kerala.
Paper II (English)
The subject paper carries a total of 100 questions each of which worth 2 marks. UGC NET syllabus for English is available which needs to be downloaded and referred, according to which your learning strategies need to be planned.
Paper II (Computer Science)
In computer science, programming, computer networks, operating system software, experimentation, communication, etc are the main topics to be dealt with. Those who are doing/have completed post-graduation can apply for the exam. There are 100 questions in paper 2 and each question carries 2 marks. 
Paper II (Commerce)
UGC NET Commerce exam Paper 2 consists of 100 multiple-choice questions for two marks each. So, you are not yet late to enjoy learning with Kerala's biggest learning academy Biglearning.
Our NET course has been planned accordingly to cover the entire syllabus. The following features add to our quality:
Experienced and expert educators

Weekly topic-wise exams

Mock tests

Pre-recorded video classes

A mentor to support and strengthen you throughout the course.

Ensures flexibility in learning
Working people no longer need to get worried in their preparation since Biglearning offers you a quite flexible learning environment. Another important feature is that our app can be accessed by IOS/Android/Desktop users anytime anywhere. Hurry up and find this as the best opportunity to make your learning and results effective from the best UGC NET Coaching Centre in Kerala.
UGC NET Paper I Demo Class
Watch our UGC-NET demo class and make sure you choose Biglearning inorder to bring out the best results!
Meet your Mentors & Watch their Classes
Frequently Asked Questions
Why is more preference given to UGC-NET qualified candidates as compared to GATE qualified?
The fellowship is granted to UGC NET qualified candidates by UGC (University Grants Commission) which is an external body. Whereas, GATE qualified candidate is paid fellowship by the institution in which he joins for Ph.D.
Can anybody who completed post graduation through distance education apply for UGC NET?
It is possible provided that he must have been enrolled in an approved institute/University.
Is it possible for an arts student to apply for NET?
Yes, arts students can apply for UGC NET in their relative subjects.
Do UGC NET exams have negative marks?
No, UGC NET has no negative marking.
Where is the NET e-certificate issued?
Will NET qualified candidates get lectureship in government colleges?
No, a NET-qualified candidate can get appointed in Government colleges only after the Public Service examinations to the post of Assistant professor.